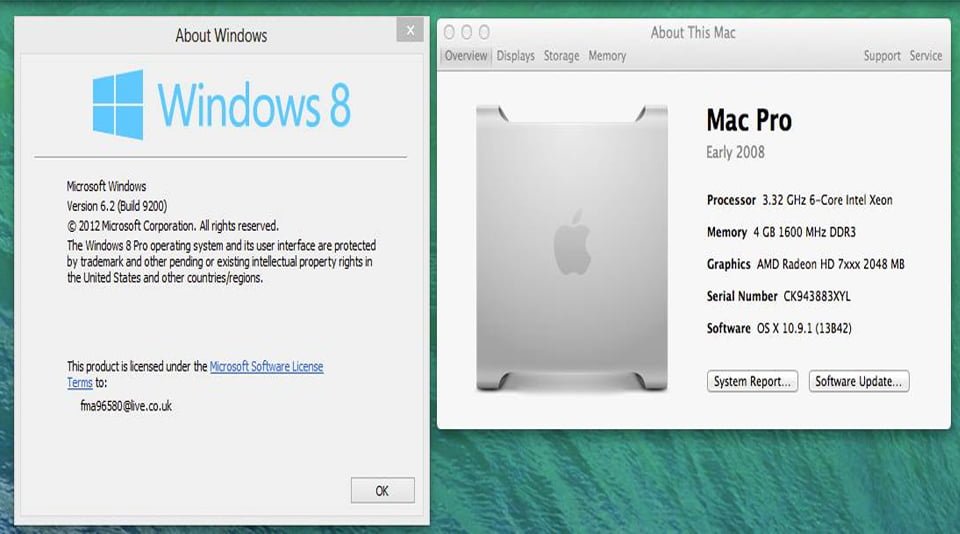 Hey guys, Here is a guide on "How to install OS X 10.9 on a PC with a Gigabyte 990FXA Series Motherboard and AMD FX Series CPU".
It will also show you how to dual boot windows and OS X and even run the same windows install inside of OS X with VMWare Fusion.
Before we start, Here is the exact specification i am using for my Hackintosh install.
Motherboard: Gigabyte 990FXA-UD3
CPU: AMD FX-6100
Memory: Corsair Vengeance 8GB 1600Mhz (2x4gb)
Graphics Card: Sapphire AMD Radeon HD 7850 2GB OC Edition (1002 6819)
Operating Systems: Windows 8 and OS X 10.9.1
Ok so although this guide is intended for install on the above hardware it may or may not work on other hardware, It will most likely work on the UD3, UD5 and UD7 motherboards aswell as most modern Radeon HD Graphics.
Requirements
The following items will be required in order for this to work.
Windows 7, 8 or 8.1 (DVD or USB)
Niresh 10.9 (Torrent: http://www.niresh12495.com [it's the most downloaded file currently])
A USB Pen (Niresh – 10.9 – Mavericks USB Version.zip) or Dual Layer DVD+R (Niresh – 10.9 – Mavericks ISO Version.zip)
Access to both Windows and the Niresh Mavericks USB at the same time.
You need to take your time and be patient. Both windows and OS X take some time to install.
1 HDD that is able to be completely formatted (wipe partition table)
Note: you don't need Windows if you don't want to dual boot